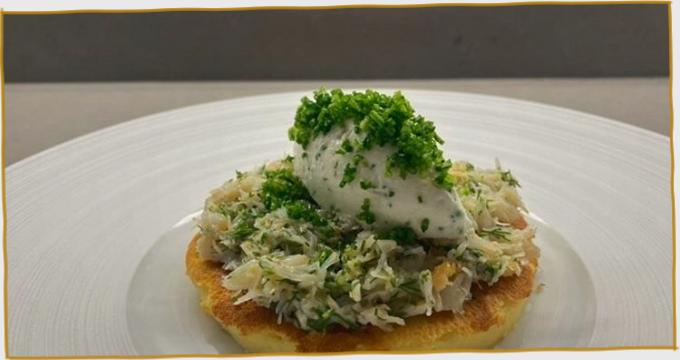 Summary
| | |
| --- | --- |
| Yield | |
| Source | Euro-Toques young chef 30th anniversary Potato boxty, St tola cheese and local crab By Jack Lenards Winner 2018 |
| Prep time | 30 minutes |
| Cooking time | 1 hour |
| Total time | 1 hour, 30 minutes |
Description
A yummy recipe from a brilliant young chef. 
Ingredients
50 grams
clarified butter
1 tablespoon
creme fraiche
1 tablespoon
creme fraiche
1 tablespoon
chopped dill
100 grams
St Tola Soft Cheese
1 teaspoon
chives for garnish
Instructions
Method
For the boxty
The first 7 ingredients on the list from Mashe potatoe to 8g salt
First bake the potato in the oven till cooked. Once cooked pass your potato pulp through a sieve or ricer, weigh out 155g and reserve.
Whisk all the eggs together in one bowl and reserve.
Finally combine all ingredients into one bowl and whisk together until you form a smooth batter.
For cooking, simply heat up a large frying pan with a generous about of clarified butter pour in your batter and allow the pancake to cook for 1 min on medium heat.
 Finally finish in the oven at 180°C until cooked.
Flip it out onto your plate.
For the Crab
Simply just combine all ingredients (so the next 6 ingredients from  picked crab to pinch of pepper)  in one bowl and reserve.
Once your boxty is cooked spread your crab mix over you boxty
For the cheese
Simply combine all ingredients (the last 4 ingredients)  in a bowl and reserve.
When your boxty is cooked and your crab is then spread on top, finish with your goats cheese
Sprinkle over the rest of the chives and enjoy.