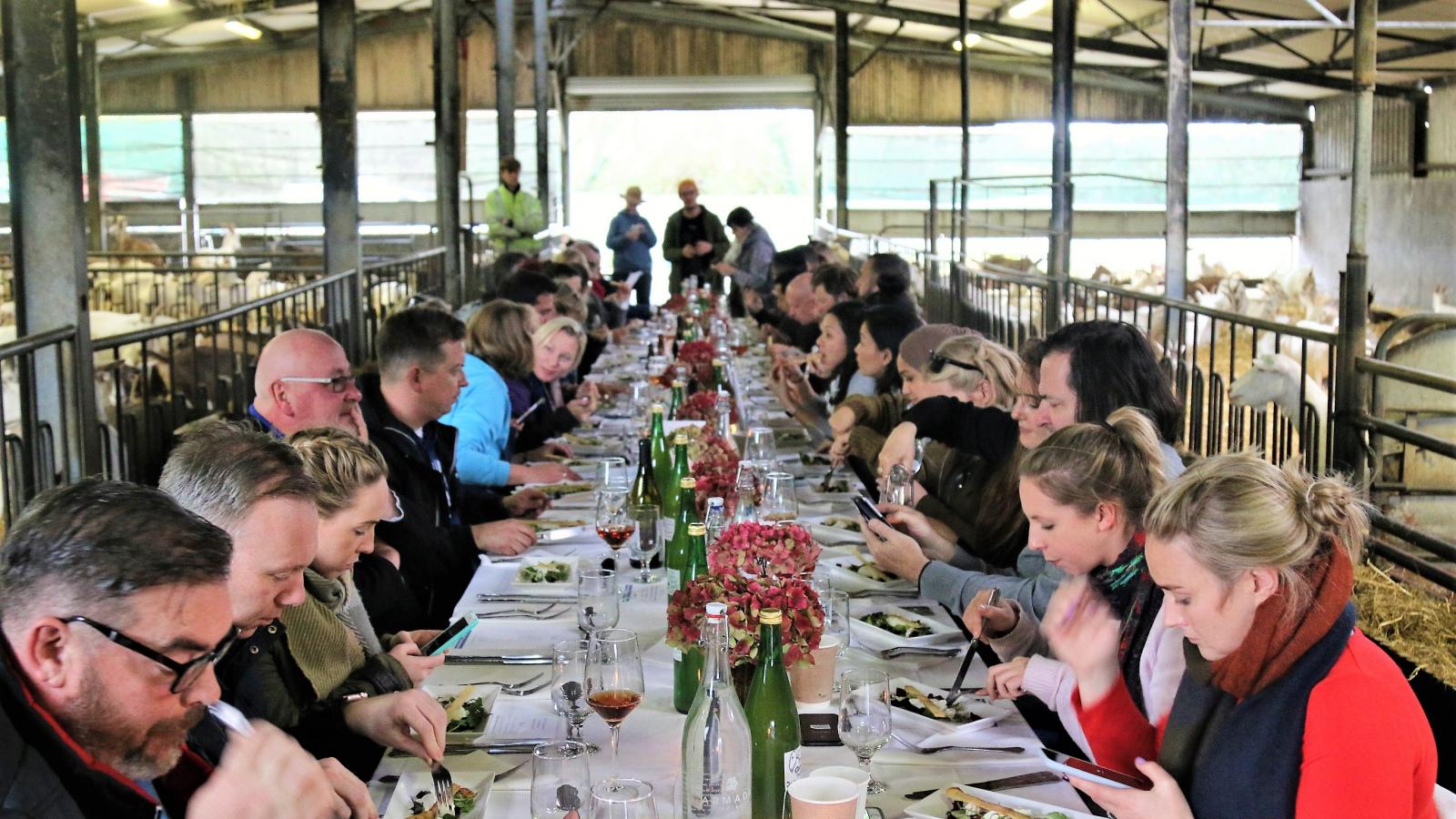 STAR STUDDED CHEFS AND JOURNALISTS LUNCH IN THE BARN AT ST TOLA GOAT FARM INAGH.
On Thursday 12th October 2017 we were delighted to host a mixture of 55 international Michelin starred chefs, journalists, academics, authors and food influencers, to a 5 course lunch, in the barn at St Tola Goat Cheese!
The meal was organised as an excursion following the "Food on the Edge" International Symposium that had been held in Galway on Monday and Tuesday.
Guests included JP McMahon (organiser of Food on the Edge and Chef from Aniar Galway), Michellin starred chefs Bo Bech and Elise Kornad and food journalists Kat Kinsmann and Joanna Blythman.
The laid back goats at St Tola looked on as the lunch was prepared by Peter Jackson and Carol O'Brien from the Armada Hotel Spanish Point, and Viv Kelly from Kierans Kitchen at The Roadside Tavern in Lisdoonvarna. The menu consisted of a starter of St Tola Goat Cheese with salad and vegetables from the Armada Farm, a main course of slow cooked goat curry and a dessert of Goats Milk ice cream. A cheese course of St Tola Goats cheeses was presented with preserves from the Burren Kitchen Garden, coffee from Anam Coffee, wines from the Wicklow Way Wines and beers from the Western Herd Beer Compan
We were deeply honoured to have hosted this meal at the very heart of our farm and hope that our visitors left with not only with a full stomach, but also a lasting impression in Ireland of the connection between our food and the land.
We were also delighted to have been awarded 2 awards at the recent Blas na hEireann awards in Dingle recently Gold for our delicious raw milk, and silver for Dunnes Stores St Tola Cream Cheese!