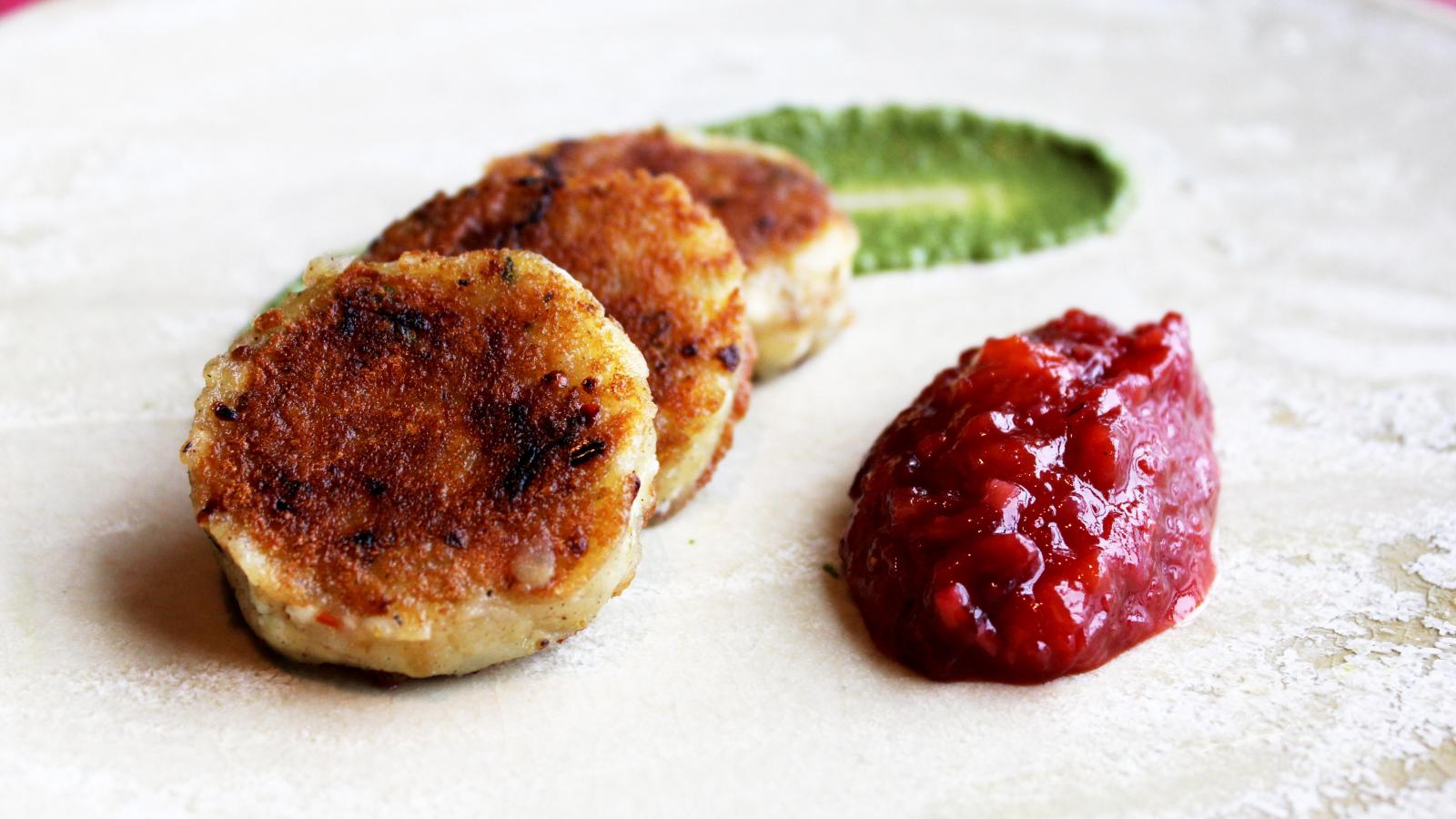 Description
"Tikki, or pan fried cakes are a great evening snack. I am using local St. Tola's Goat cheese which makes these very delicious! "
Goats Cheese Tikki from Karan at Ananda Restaurant in Dundrum, Dublin
Ingredients
3
potatoes (boiled with skin and cooked completly )
300 grams
St Tola Soft Cheese
1 tablespoon
fresh basil chopped
1 tablespoon
red chili chopped
1 tablespoon
ginger (chopped )
3 tablespoons
shallot (chopped )
teaspoon
black pepper (ground)
1 tablespoon
fresh coriander (chopped )
75 grams
white cheddar (grated )
40 grams
roasted hazelnuts (chopped )
Instructions
Method: 1. Heat oil in a pan. 2. Add cumin seeds. When they splutter, add ginger, fresh red chilli & banana shallots. Sauté till shallots are soft. Keep aside and allow to cool. 4. Grate Potatoes. Add St. Tola's goat Cheese, chopped basil, coriander, black pepper and the cooked banana shallots. 5. Take a small amount of mixture in the hands and shape into a ball. 6. Mix the cheese and hazelnuts together for the stuffing. 7. Take the potato mixture and make a hole in the centre. Add some cheese stuffing in it and fold the potato mixture to encase the stuffing in the centre. 8. Shape the balls tightly into a flat wheel. 6. Heat a non stick pan and lightly brush with oil. Pan sear the galettes till golden brown on both sides. Serve hot with chutney of your choice.