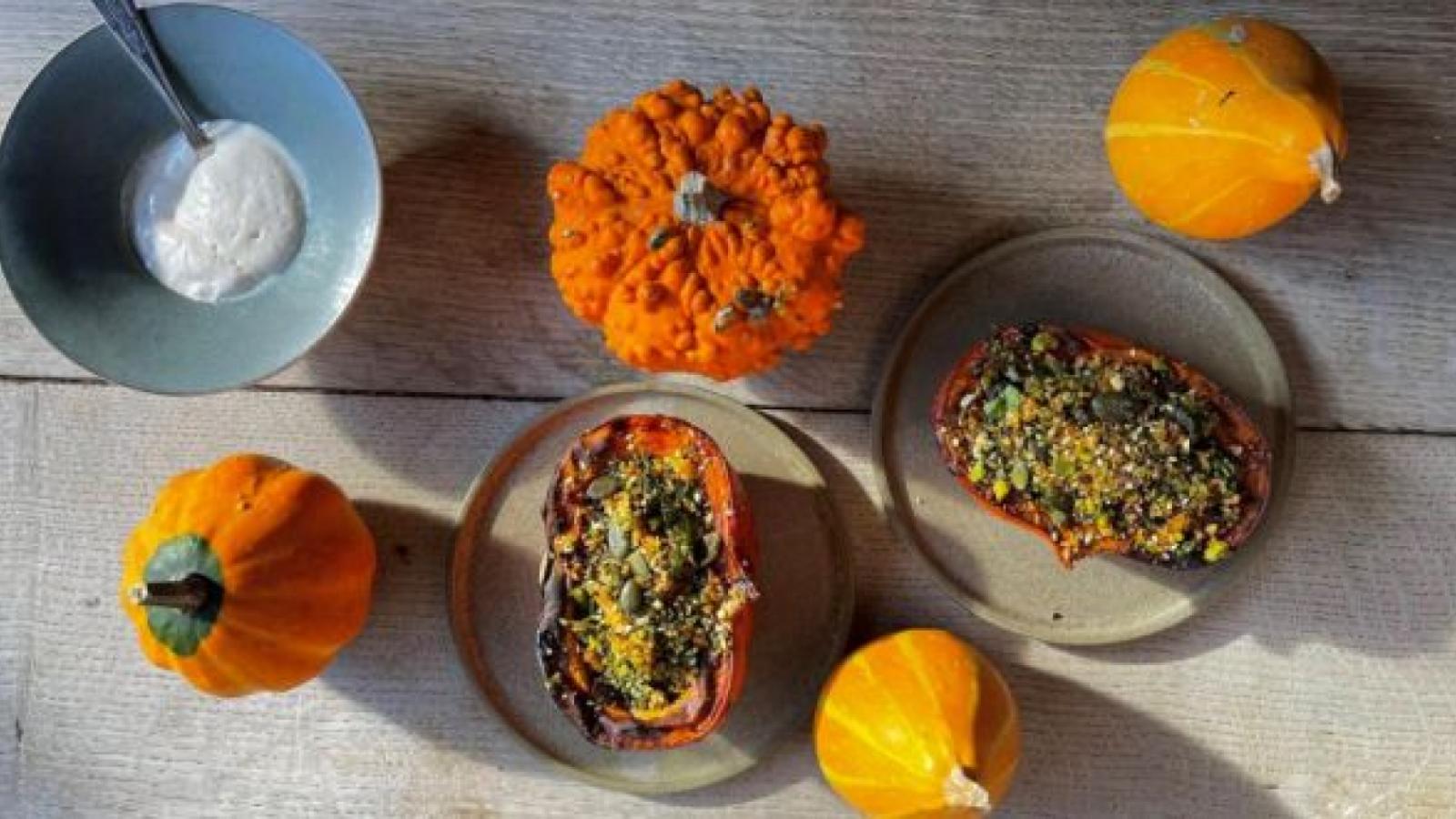 Description
St Tola original is the perfect texture for this dish as it folds in perfectly with the rest of the ingredients, resulting in a lovely creamy, firm filling.
Hannah O'Donnell is a chef at Kai in Galway.
St Tola, quinoa, and pecan stuffed squash from Hannah O'Donnell at Kai Restaurant Galway
Ingredients
2
medium butternut squash (halved lengthways & seeds removed )
120 milliliters
vegetable stock
50 grams
St Tola Soft Cheese
30 grams
pecans (toasted and chopped roughly )
50 grams
dried cranberries
1
Lemon (zest and juice )
1
flat leaf parsley (1 handful roughly chopped)
5
leaves of sage (roughly chopped)
2 teaspoons
ground fennel
2 teaspoons
dried oregano
Instructions
.1 Preheat the oven to 180 degrees.
2 Place the squash on a baking tray. Oil generously all over and season with salt and pepper. Bake for 30 minutes skin up, until tender. Remove from oven and allow to cool for 10 minutes.
3 To cook the quinoa, put it into a saucepan with 120ml vegetable stock, or water and one vegetable stock cube. Bring to boil and simmer for 15 minutes till fully cooked. Check for water levels because the quinoa might need a top up. Remove from heat and allow to cool.
4 Scoop almost all the flesh out of the squash leaving about a 1-2cm of flesh close to the skin. Place the squash shells back on to the baking tray and set aside.
5 In a medium sized mixing bowl add the squash flesh, goat's cheese, quinoa, herbs, lemon and cranberries. Add the spices, cumin, fennel, chilli flakes and oregano. Add the seasoning and date syrup. Mix until well combined and check for seasoning.
6 Carefully spoon the mix back into the squash shells till the shape of the squash is back intact, even slightly over-filled. Sprinkle Parmesan on to the tops of the filled squash. Put the stuffed squash back into the oven and bake for 15-18 minutes until browned and hot in the middle.
7 Serve with a seasonal salad or with steamed greens.
8 The squash can be replaced with pumpkins, which are also in season. These can also be made ahead of time and refrigerated for up to two days. Bake for about 25-30 minutes when cooking from the fridge. Also, if there is extra filling it freezes well and can be stuffed into jacket potatoes, courgettes or even peppers