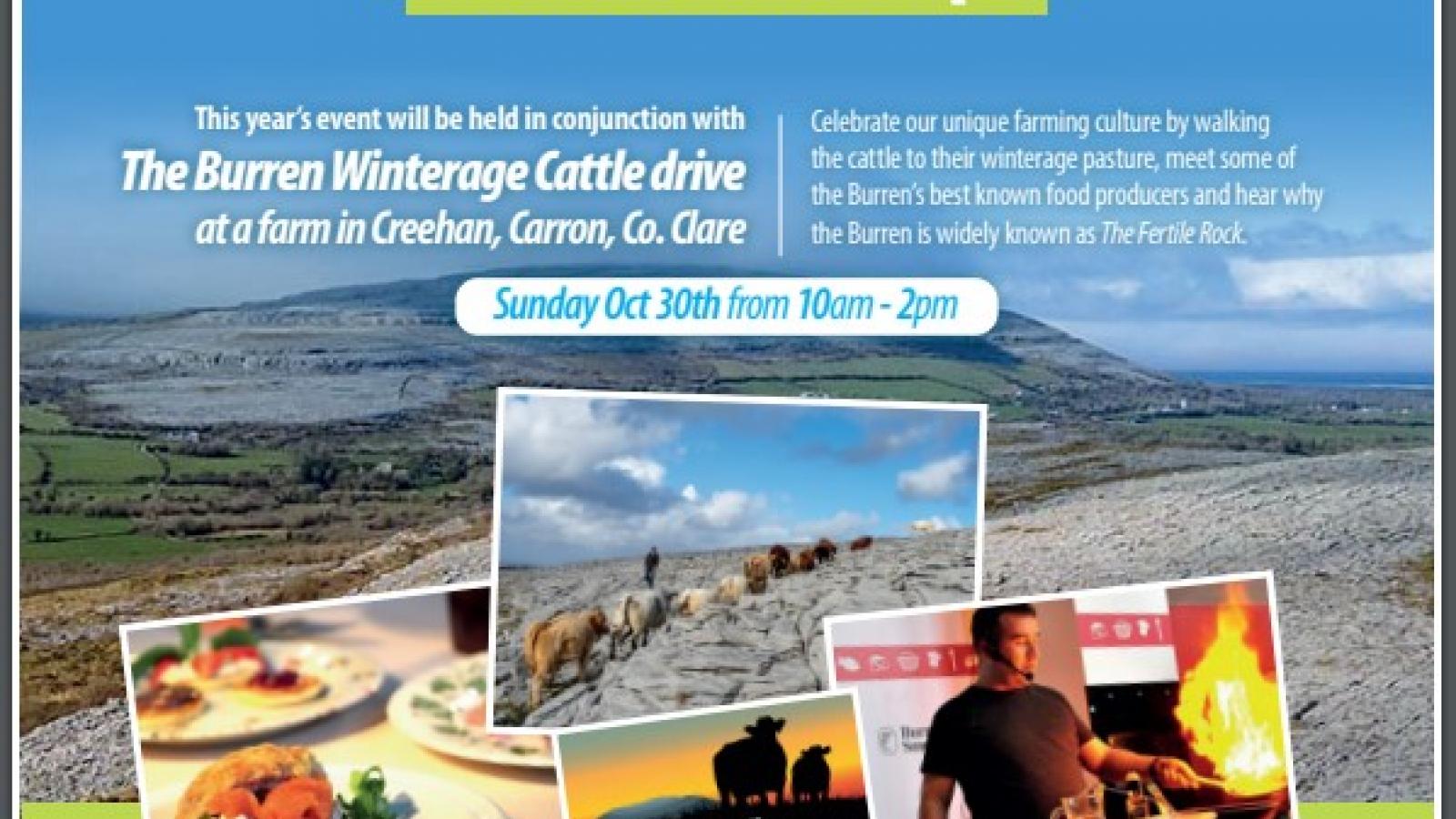 Burren Winterage and Food Fayre
The Burren Winterage Weekend and Winterage School are running once again this Bank Holiday Weekend.  We are delighted to be a small part of this by participating at the Burren Food Fayre, which will be at the trail head for the annual cattle drive. 
The Burren Winterage Weekend is a community-led initiative that is coordinated by the local landscape charity, the Burrenbeo Trust, https://burrenbeo.com/  with voluntary support from the Burren Irish Farmers Association and the Burren Farming for Conservation Programme.  It runs on a shoestring budget with the support of many individuals donating their time and other local resources, such as venues, to the event. 
On Sunday, the 30th of October, you are invited to join the Burren Winterage Cattle Drive, a community walk with a Burren farming family as they walk their cattle to the winter pastures.
This is a 4km loop walk mostly on a gravel path and a short optional portion on steep and uneven farmland terrain. A reasonable level of fitness will be required for this walk. Suitable footwear, such as walking boots is essential and waterproof boots are recommended if the weather has been wet in the days prior to the walk. Please wear appropriate clothing for possible wet, blustery weather, including waterproofs.
Numbers are limited and pre-booking is essential. book through this portal https://www.tickettailor.com/events/burrenbeotrust/761620#  the exact location of the trail head and Food Fayre will be communicated to ticket holders in due corse. 
This year, the Cattle Drive attendees will also be able enjoy the Burren Food Fayre before and after the walk- where there will be a chance to 'taste the Burren' through food tastings from the Burren's best food producers and of course delicious St Tola Goat Cheese!  There will also be tea, coffee and scones on offer before the walk (we encourage you to bring your own mug!), and hazel sticks to help people on their way.
PLEASE NOTE: NO DOGS ALLOWED.
Admission: €5 for Burrenbeo Members and Burren Pine Project Supporters / €10 for non-members. Children under the age of 12 go free but must be accompanied by a parent or guardian.