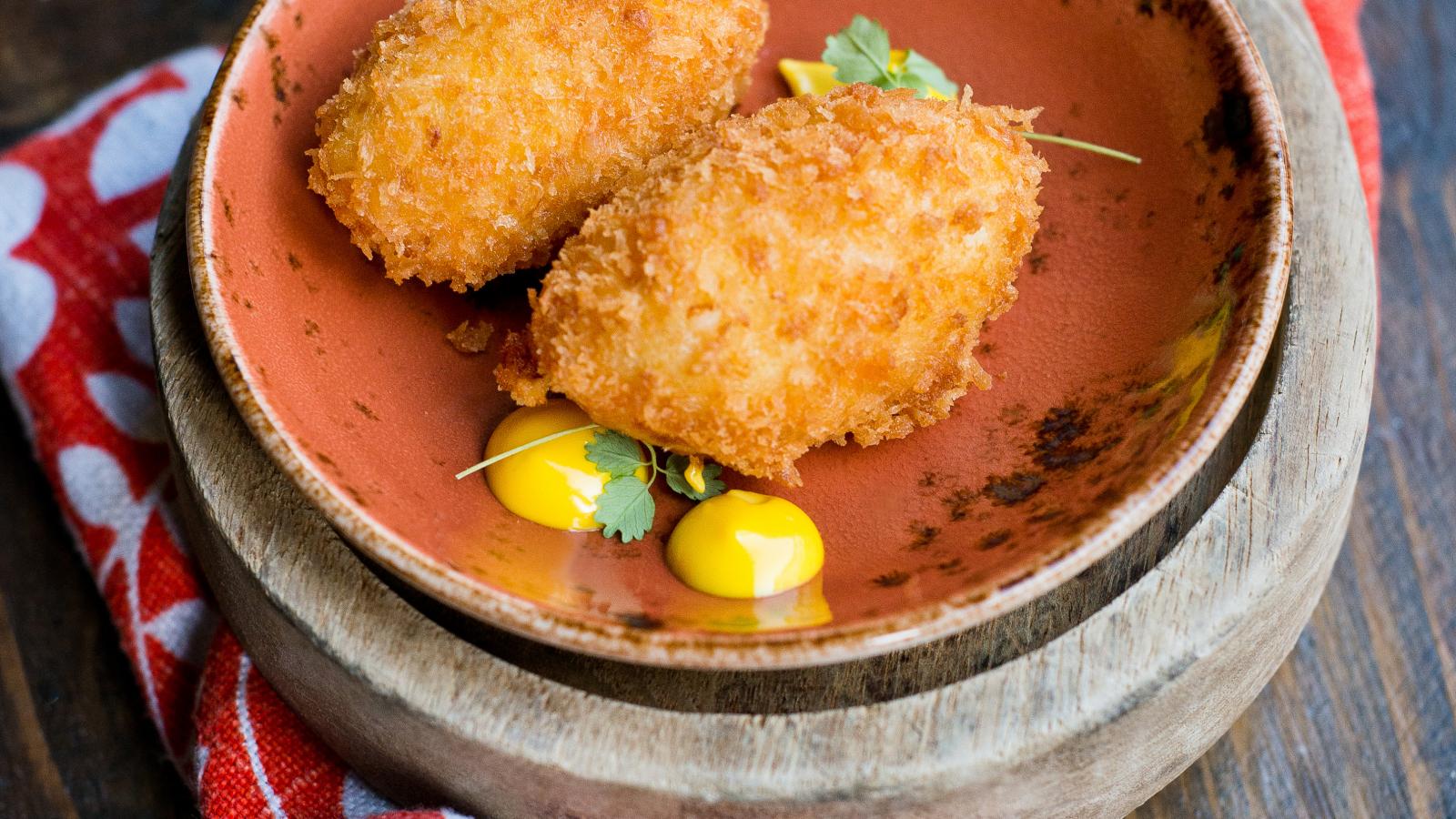 Description
Delicious St Tola Goats cheese and sweet potatoe croquettes from Cava!
St Tola Goats Cheese & Sweet Potato Croquettes from J.P. McMahon from Aniar & Cava Restaurants, Galway
Ingredients
250 grams
sweet potato (finely diced)
Instructions
Method:
Fry the onion and garlic in the olive oil on a medium heat until translucent. Add the
cubes of butter. Fry for a further 3 minutes or until all the butter has melted. Meanwhile,
in a separate pot, bring the milk, bay leaves and peppercorns to the boil. Set aside. 
Add the sweet potato to the onion and garlic mix. When soft, gradually add the flour, stirring all the time with a wooden spoon so as to avoid lumps forming.
When the flour is fully integrated into the mixture, gradually add the milk through a fine sieve to keep the peppercorns and bay leaves out of the finished mixture. Keep adding
the milk while mixing with the wooden spoon to ensure the mixture is smooth and soft.
When all the milk has been added, season the mixture and pour onto a flat tray. Crumb
the goats' cheese into the mixture. Cover with greaseproof paper and allow to cool. 
When the mixture is cold, shape it with two spoons (or your hands!) in small croquettes.
for the crumb: Place the flour, eggs (with a dash of milk), and breadcrumbs in three separate bowls. 
First roll the individual croquette into the flour, then the egg and finally, coat it in the breadcrumbs. Repeat this process for all of the croquettes and then place them in a container in the fridge. Do not place more than two layers of croquettes on top of each other, as this will affect the shape of the croquette. You can freeze half the croquettes
and cook from frozen, if you like. 
for the saffron aioli: Add 3 tbsp warm water to the saffron in a suitable bowl. When the colour of the water is orange (this will take a few minutes), whisk in the mayonnaise.
To serve: Heat your deep fryer to 175ºC and fry the croquettes until nicely brown. Serve with some saffron aioli and some locally sourced green leaves